Retirement in Thailand!

Can you actually "retire"
on

25% 35%

of your current monthly expenses?
Can you live in a home with pool, a maid, a new car,
and have money left over to travel, eat out in
fine restaurants, and really enjoy life?
AND do it at a fraction of your current costs?
The answer is a resounding…….YES, you can!!
At Retire in Thailand, we will back up this statement with actual facts, not "pie in the sky" dreams. Retirement in Thailand is not only possible, but due to the current economic conditions in many Western Countries, a realistic way to retire NOW. Homes; Land; Real Estate; Rentals and the most desireable locations are discussed. Rent a home vs. buy; Build a home vs. purchase; Land and Real Estate vs. Condo; Homes for 30% what you'd pay in America or Europe.
---
►If you are considering early retirement, semi-retirement and/or looking for a business opportuntiy outside of the USA, please view this link. We have an incrediable small business opportunity that can substancially increase your monthly income or offer you financial freedom from remaining in America. Only American, Australian or NZ Citizens need apply. Go to our Business for Sale page on menu or click here.
___________________________________________________________________
Retire in Thailand: Phuket, Koh Samui, Hua Hin, Pattaya, Chiang Mai, and Bangkok are the names you've heard. However, don't over look areas in the North and North East such as Nong Khai, Udon Thani, Korat, Khon Kaen and Chiang Rai for retirement locations. All offer different possibilities for the full time resident in Thailand. Why Retire inThailand.Com will be your guide.
Western standards are now employed in many Thai housing developments. However, buyers must be careful and deal only with accredited developers (like anywhere else in the world!). Homes, land, real estate, rentals and condos for the retiree's piece of mind. WRIT (Why Retire inThailand) has it all and can help you make the right decisions.

The terms: Cheap housing; inexpensive living; retirement heaven; semi-retirement possibilities; and many more have been used to describe Retire inThailand. Other sites give you the "basics". Most are out of date or piece meal the information to you. This is the main problem with purchasing a book on this subject, as it is out of date by the time it leaves the publisher. Politics, names, phone numbers, visa requirements and immigration laws keep changing. How can a book update itself? You need up to date information for these types of life decisions!! Why Retire in Thailand.Com will be the Premier Web Site you will use for researching this topic. Please bookmark NOW. Retire in Thailand! Contact: info@whyretireinthailand.com
---
USA Visa: American Visa 4 Thai.com
Tourist, Student, K-1, CR-1/IR-1, Immigration
We only deal with Thai nationals and/or their American sponsors.
Click on the link below:
We are currently selling "branch offices" of this business. If you are interested, please follow this link: http://www.businessesforsale.com/America-Immigration-And-Student-Consulting-Business-For-Sale.aspx
_____________________________________________________________
Why Retire in Thailand is now working directly with Thailand Longstay Company to offer our clients a unique and very effecient way to acquire your retirement VISA with the benefits of membership. . IF you have any questions, we can answer them for you. We can also make the introduction with Long Stay and walk you through the process. Contact:

info@whyretireinthailand.com
So what does it REALLY cost to live in Thailand?
Example: A "real" cost for the month of June, 2012.



Area: Nong Khai, Thailand, near town, 2 large bedroom townhouse, 3 bath, small front and rear yard. Newer building, western style, large kitchen. Family: Husband, Wife, 1 child, maid/nanny. (4 persons)

* Rent: 7,000 baht per month
* Electric: 1,670 baht
* Water: 240 baht
* Food: 13,000 Including household items, etc.
* Entertainment: 4,000 baht
* Gas for Truck: 3,500 baht
* Insurance (truck): 1,000
* Live in Maid: 7,000
* UBC Statellite Cable TV: 2,000
* Misc: 3,000

Total Monthly Expenses: 42,410 baht or approx. $1413.00 US dollars!


NOTE: (Based on a baht of approximately 30 to the dollar.)



If you are considering retiring or moving outside your Native Country, be it America, Europe, Australia, New Zealand or other Western or Asian nation, you must have the facts.

"Why Retire in Thailand not only covers all the many issues of living in Thailand, but gives the reader a basis to judge ALL possible destinations they may be considering. The Author, having traveled and investigated many countries, has chosen Thailand. However, the basis for this choice and the criteria he used can be applied to any country.
Of Course there are many web sites that can give you information on basic costs of living, real estate, weather, customs and general living conditions. But as they say, "it's all in the details!" Consider the things you have now, the day to day living that takes place. You will want to exceed these conditions upon retiring or at the very least remain at your current level.

Please review our menu (left side) and click on the pages of interest. We cover and will continue to update these pages with current information. Why Retire in Thailand.Com will become the STANDARD for which all other sites are judged.
NEW WEB SITE: Want to explore more Retirement options. Our good friend has opened a new web site with International news and options for the potential retiree. Check it out NOW....www.retirementabroad.com
FREE: Updates sent directly to YOU! NO spam, no selling your e-mail address, only direct and personalized info we "insiders" living in Thailand know about. NO schedule. Sent as needed. For your free updates and Current Thai Info., send your e-mail address to: info@whyretireinthailand.com

We look forward to your inquiries, e-mails and questions. Retire in Thailand!
Click on: info@whyretireinthailand.com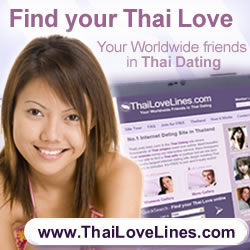 Powered by CityMax.com